Oooh, oooh, oooh! Happiness is a linky party, especially when one is on winter break and has time to soak it all in! I've loved reading everyone's lists, and I decided to join in the fun!
Kristin at A Teeny Tiny Teacher and Hadar at Miss Kindergarten created this lovely linky party...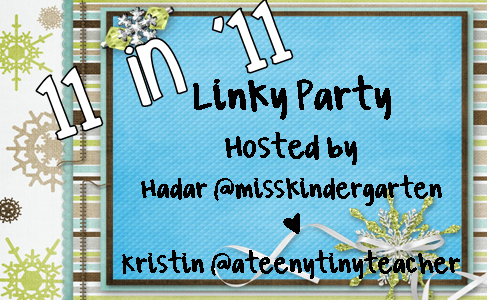 Here we go...
11. Favorite movie you watched: Hmmm, this is tough. I am an avid Netflix user, and I'm struggling to think of ONE fav of 2011... if I had to choose one that I saw in the theatres, I would say...
10. Favorite TV series:
Oh my goodness. Scary! Violent! Fabulous!
and Hilarious! Quirky! Wonderful!
9. Favorite restaurant:
Hubs and I travel profusely and are OBSESSED with this little Mexican restaurant out by O'Hare Airport in Chicago. If you are ever in Chi-town, do not pass go, do not collect $200 and go eat at...
It is the freshest, most authentic Mexican I've had (outside of San Diego), and we love this little Schiller Park, IL hole in the wall! YUM!
8. Favorite new thing you tried:
Formal yoga classes! I can't believe I waited as long as I did to take classes. Being in a class is totally different from practicing in your living room, and I couldn't imagine my life without it!
7. Favorite gift you got:
My mama was more than generous at Christmas this year, and bought me a NOOK Tablet. I'm a reading purist (paper books and magazines), but I'm switching to the dark side... and playing Angry Birds along the way!
6. Favorite thing you pinned:
In looking at my Boards, I am most drawn to my one titled "Inspiration." Here's a fav!
5. Favorite blog post:
I was so psyched to open yoga work station in my classroom! Check out that post here...
Hooray for Work Stations!
4. Best accomplishment: Teaching a university course to pre-service teachers! My graduate school adviser asked me to fill in for her during a research quarter, and I was honored to use the research I completed to help teachers-to be!
3. Favorite picture
: Hubs and I in Chicago for 4th of July weekend! We were on the Navy Pier Ferris Wheel!
2. Favorite memory: Hmmm, this is a toughie. My favorite memory was meeting two of my besties new baby boys... one of which I was lucky enough to become the godmother of...
We've all been friends for 20+ years, and it's so wonderful to see these new little ones joining our circle!
1. Goal for 2012: To become more mindful and live in the moment! I'm a HUGE worrywart, and I need to learn to "Let go, and let God!"


How to link up:
Create a blog post sharing your favorite 11 things in 2011. Add the button to your post using the code from above. Then link up below, making sure to link directly to your post, not just your blog.

So, there it is... my 11 in '11! How was your year, and what are you looking forward to in 2012?