Hooray! Who's ready to find out who won my "Fabulous 50 Follower" giveaway? Again, a special thanks to my blogger friends...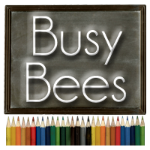 and
for helping provide awesome resources to share!
I used the good old fashioned Random Number Generator to choose a winner and...
Jennifer! Congratulations! E-mail me at ka_davis710@yahoo.com with your home address so I can send you your books. I will also pass along Mrs. Huff's Candy resources and put you in touch with Busy Bees to get your Gingerbread Mix Unit!
Thank you to all who entered and all who are new followers! I'm so glad to have you joining me!