It's my 1st official, full day of summer vacation!
(Geez, that is so nice to say?)
I napped yesterday. I went to a baby shower today. I made homemade pizza's with my hubby tonight.
All in all, a pretty nice little Saturday!
Summer is officially here, and I've been thinking about what my plans are for the hot days ahead. Luckily, Hadar, Teri, and April are getting us situated with their summer bucket list linky party!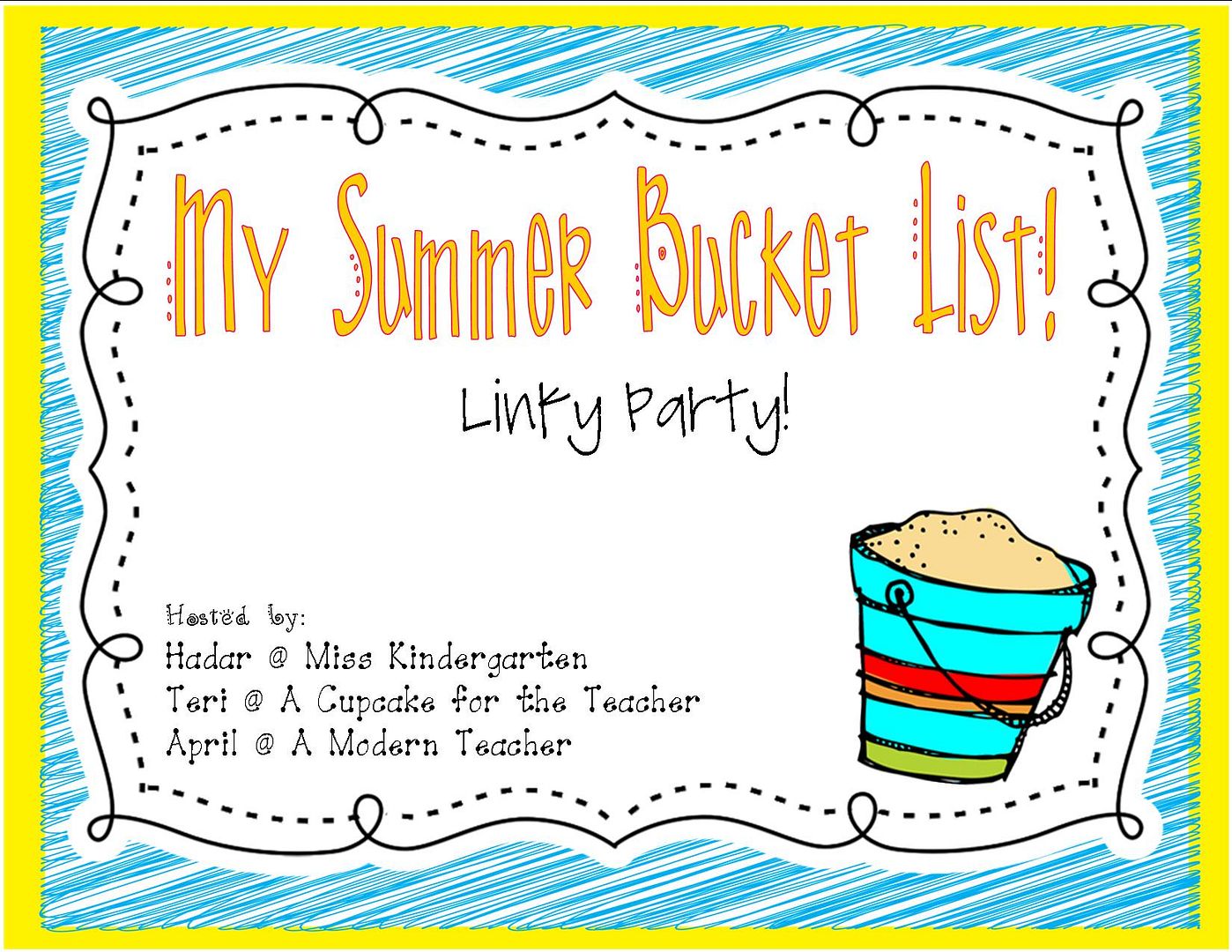 Here's what some of my plans are for June, July, and August...
Get a TpT store started. I've been itching to make a kindergarten math vocabulary word wall and some other things, so I figured I should share the love with all of you!
Create a new classroom environment. We are moving buildings... so that means a new classroom and a whole new slate. I'm thinking of color schemes, organization, shelving, etc. I need to plan so I don't go in there all willy nilly!
Create a new classroom schedule. Using Math Workstations? Using Daily 5? Using... I have no idea what! We'll have related arts (specials) at the exact same time each day. I need to be strategic in my schedule planning. Any suggestions?
Write a new Donors Choose Grant. More yoga materials? Technology? What are you all itching to have in your classrooms?
Nap. Seriously. Can there ever be enough napping?
Cook more. After being away from home and practically living at the hospital, I have yet to get back into my cooking groove. I don't want my hubs to waste away! I'm excited to have the summer to cook using fresh fruits and veggies that are in season!
Exercise. Regularly. I practice yoga, but have been a bit lackadaisical. And, I have friends wanting to run a 5K in August... so, it's time to get my rear in gear and start taking care of myself again!
Renew myself. I lost my dad to cancer complications, and I finally have time to fully go through the grieving process. I know Father's Day and my dad's birthday are going to be hard this summer. Having this summer to relax, rest, and restore myself emotionally will prepare me for a new school year and the challenges that lie ahead as life continues on.
Obviously these are in no particular order, but as I look at what I wrote, they are almost in order from least important to most important. Hmmm.... looks like I need to take care of myself and give myself a little TLC so I can take care of my new crop of kinder kiddos in the fall!
So, any hot plans for summer?! If you haven't linked up yet... join in on the fun!