Whew! I think I could spend hours reading all your posts at...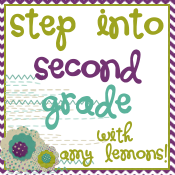 I love learning all about my bloggy friends and finding some new ones as well!
I'm going to link up at
Mrs. Lemon's "Tell me more, tell me more!" Linky Party
... and if you haven't already, you should hop on over and do it!
Here's a bit about me...
1. I have to have my alarm clock set at increments of 5 minutes... ex. I will set the alarm for 6:15 AM, but I will not set it for 6:14 AM or 6:16 AM. It would drive me nuts!!!!
2. On a related note, my car radio has to be in increments of 5 or an even number! My stereo could be at 12 or 15, but not 17 or 19. Again, it would drive me nuts!!!
3. Practically every night when I go to bed, I play Words with Friends on my NOOK, read my daily devotional, and peruse Pinterest/Facebook, and read a magazine/book before bed. Pre-NOOK, I would just read and drive Hubs nuts with leaving the light on.
4. I L-O-V-E to travel! One summer, my hubs & I drove across country and explored Route 66... The Midwest, to the west coast and back! It was the best! We've also hit up the Caribbean, many major cities like Chicago, Nashville, as well as my childhood vacation spot... Hilton Head Island, SC! Our next hopes for travel are... Washington D.C. (I've never been!), NYC (I've never been!), and Europe!!!
5. I am an avid napper!
6. I love yoga! I'm so happy to have started practicing, as well as sharing my love with my kinder kiddos!
7. I prefer writing with black ink above all others! I don't know what it is about black pens, but I love them. I always buy a new pack or two or three before school starts!
8. My nieces and nephew like to make up knock-knock jokes about me! LOL! The punchlines often involve the word diarrhea. That's what happens with a 10 year old, 7 year old, and 5 year old!
9. Coffee is always essential. I drink it every day in some way, shape, or form... iced, hot, with cream, without cream, sweetener, without, etc...
10. I'm lucky enough to be married to my best friend! My hubs is awesome, makes me laugh, plays guitar, takes care of me, tolerates my craziness, and is just all around the best!
Well, there it is. 10 random facts about me. Link up and share a bit about yourself... you never know what you'll find out!